--- PRLog (January 2015)
Phoenix, Arizona – Striking Stone of Phoenix Receives Best Of Houzz 2015 Award Striking Stone rated at the highest level for client satisfaction by the Houzz community. Over 25 Million Monthly Unique Users Rated Top-Rated Home Building, Remodeling and Design Professionals in the United States and Around the World. Striking Stone of Phoenix, Arizona has been awarded "Best Of Houzz" for Customer Satisfaction by Houzz, the leading platform for home remodeling and design. This growing stone engraving company with a large studio open to the public was chosen by the more than 25 million monthly unique users that comprise the Houzz community from among more than 500,000 active home building, remodeling and design industry professionals. Read more here


--- Green Living (October 2013)
Scottsdale, Arizona – Striking Stone's natural, unpolished, hand-engraved wedding heart favors as highlighted in their Cool Outrageous Things.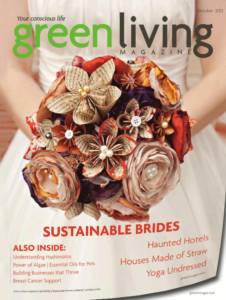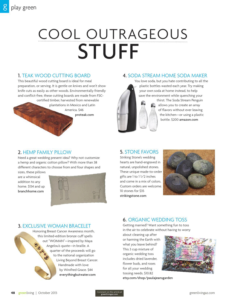 --- Phoenix Zoo Wild Times (September/October 2013)
Phoenix, Arizona – Recognition memorial bridge, donor wall tiles, bench plaques and engraved bricks by Striking Stone.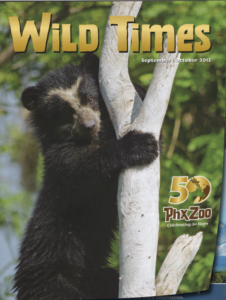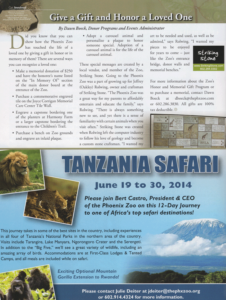 --- Striking Stone partners with Habitat for Humanity in Central Arizona. (Aug 2013)
Custom engraved address plaques for new homeowners in the Phoenix area. Phoenix, Arizona – Striking Stone is partnering with Habitat for Humanity Central Arizona (HFHCAZ) by providing engraved address plaques for several new builds and renovations during their 2013-2014 build season. Each custom stone will complement the exterior paint color selected by the new Habitat homeowner. Read more here

--- Deer Valley Times (July 2013)
Striking Stone raises $500 for families of 19 firefighters killed at Yarnell Hill. Polished black granite engraved memorial was custom designed and auctioned to honor the Fallen 19. Phoenix, Arizona – Striking Stone held an online Facebook auction of a custom designed engraved granite memorial and announced that all funds received would be donated to the 100 Club of Arizona. The winning bid produced a $500 donation that will be used to help the families of the firefighters.
--- City Sun Times (June 2013)
Phoenix, Arizona – New Location For Local Craftsman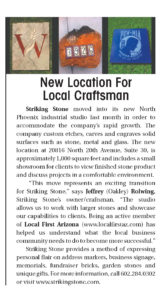 --- Deer Valley Times (June 2013)
Striking Stone offers stone engraving tours to customers during recent grand opening at new studio. Clients speak with Striking Stone Craftsman and learn firsthand about engraving home address markers, pet memorials, stone signs and brick pavers. Phoenix, Arizona – Striking Stone held a grand opening at their new location on May 29,2013 to showcase the stone engraving process and answer design questions. The industrial studio hosted several local businesses, architects, builders, pet product sales personnel, educators and management companies. A simple process walk-through sandblasting video was created to show the steps in process.

--- Local First Arizona (May 2013)
Striking Stone hangs their own shingle for walk-in customers and reboots the art in life. Clients to work directly with Striking Stone Craftsman in new North Phoenix industrial studio. Phoenix, Arizona – Striking Stone is pleased to announce that it has moved to a new industrial studio as of May 1, 2013 in order to accommodate the Company's rapid growth. The new location at 20816 N. 20th Avenue #30, Phoenix, Arizona 85027 is approximately 1,000 square feet, which includes a small showroom for clients to view finished stone product and discuss projects in a comfortable environment. Read more here